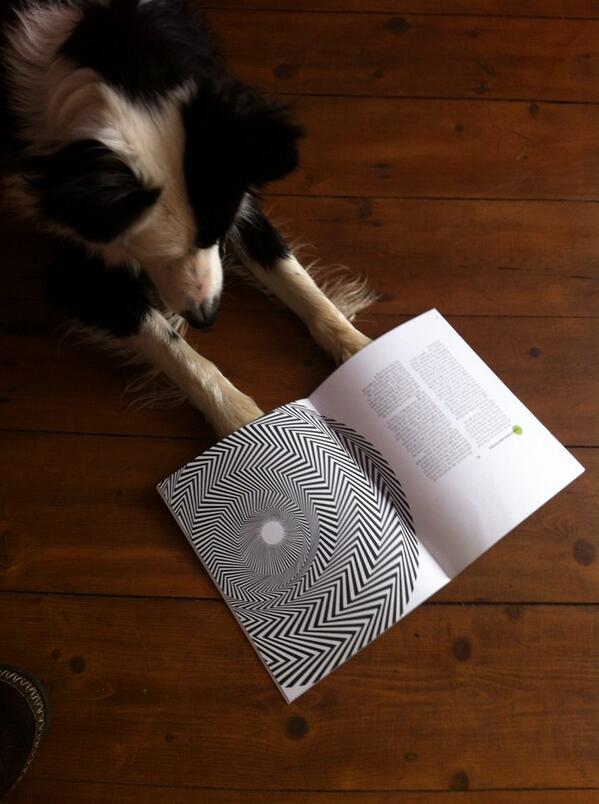 Well, PHEW. Eh? PHEW.
Issue 2 of the magazine is out. I think it looks beautiful, and as you can see, Brodie agrees. The designers deserve credit everywhere, they were absolutely brilliant to work with. Have a look at: be.net/jamesalexrogers  and  be.net/matthewkeen.
And we did the tie-in event, Hack Circus: THIS IS REALITY on Saturday. It was bloody brilliant, thanks to the speakers and the Site Gallery, especially Jane, who helped out all night and got us everything we could possibly need. What a star she is.
And I must thank Tim for his help with the very funny quiz. I gave out party bags with books and papers and stuff in, and all our copies of The Inner Head were taken, so there are at least a few copies in the wild now.
James Jefferies brought one of his lovely model trains and manned it during the breaks – went down a treat and tied in really nicely with Ralph's talk about miniature realities, and I spotted him behind the bar too! So much of the success of things depends on people being unnecessarily generous and helpful, I'm realising. Feeling so grateful to everyone right now.
Speaking of which, the talks and performances were just excellent. You might say I'm biased… and of course I am, I chose them. But I had plenty of nice feedback that confirmed my bias, and I was beside myself with tiredness and excitement so it was great to hear how the audience felt about it.
One thing I like about running an event like this on a shoe string is the way it becomes a mini-festival for me. I had one of the speakers, the wonderful Sinead McDonald, staying for the weekend – a real treat. I flew her over from Dublin for this and the previous HC, and am thinking seriously about things I could and should be doing in Dublin, where art and tech are both taking off in a big way right now. It's not that far, and it's such an exciting place in a relevant-to-my-interests kind of way. Where my interests include art, tech, making stuff happen, culture, parks, beaches, meeting friendly locals and drinking.
I'll blog about HC soon in the appropriate place, I think. I've already done a newsletter about it here, though, with some pictures and links. I also interviewed all the speakers before the event (except Ralph who was too busy buying a house).
I'm blind with tiredness but must keep going. If I stopped to question any of this, I would realise it's absolutely mental, panic and immediately fall off.

Be too busy to worry is my motto right now. Although I now have the meta worry that I've raised my tolerance levels for worry, and like someone getting slowly hooked on prescription medication I'll need more and more busy-ness to get the same hit.
I'm in London again this week heading back up north probably Tuesday (let's get that drink, Yorkshire friends). I've been doing some workshops with really nice clients, and having meetings with interesting organisations who might be interested in doing things with Hack Circus. Plus it's spring, and you know, I could squeeze in a bit more sleep, let's face it, but the sun is shining and the work is coming in and I'm trying to work out ways to give great artists and thinkers a bit of a voice in the world. Tell me, what's better than that?
I'll tell you what's better: doing your own podcast. Roo and I recorded a new episode of Shift Run Stop yesterday, with snacks from ages ago (thanks Lee) and it's going up on the site tonight! We recorded a great chat in the park and while it's possible we were both just hysterical with exhaustion, we agreed it's one of our favourite episodes in ages… perhaps ever. So even if you don't usually listen, listen to this one.
I've started on the next Hack Circus. The theme is ACCESS ALL AREAS. Think locks, codes, infiltration, transgression, trespassing, fourth wall, etc. I'm after original pitches for fun articles and interviews on any of that, and ideas for talks and presentations for the next event, which will be in June. The deadline for the mag is mid-April, which is actually pretty soon.
You'll be pleased to hear I got paid by the worst offenders, so I can afford to pay my speakers' travel this week. Oh and I have a new thing in WIRED UK about protecting your private data.
Eesh, look at that. The dog's even sleepier than I am. I guess he does have a lot on at the moment.