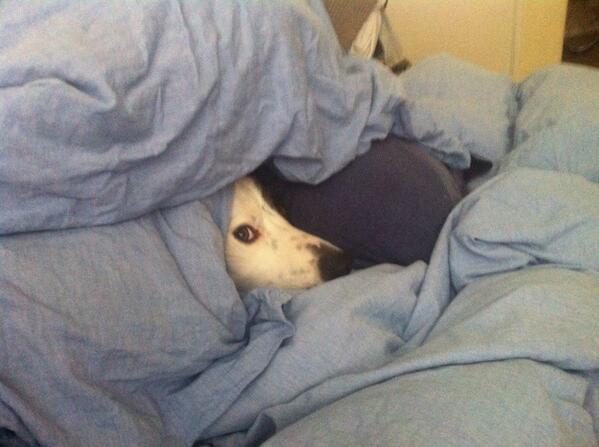 These weeknotes have become a 'something near the beginning of the month, something near the end of the month' sort of deal, but language is a moving goalpost; let's persevere with the word 'week' and see how long it takes so-called society to catch up.
I've been doing a lot of travelling over the last few weeks, and it's not over yet. James and I were going to come back to Sheffield for the weekend, but given I'm in Bristol next week speaking to Watershed's REACT Hub 'Objects Sandbox' teams about making stuff, and Brodie's starting to get The Fear about going on trains, and frankly I'm absolutely at my limit with going on trains and buses with bags and animals several times a week, we've decided the wisest thing is for the three of us is to rest here in London for the weekend instead. We are in danger of getting 'a bit run down' – and we can't have that.
I had a meeting in Brighton last week, more about which anon. I think I feel about Brighton how other people feel about London. It's a silly, privileged theme park of a place, but it's very open minded, which is I suppose something we laugh at because it makes us uncomfortable. Something about the place gives me hope. London, on the other hand, is so many things that the only way to make sense of it is to build walls around yourself until you live in a sort of psychogeographic tunnel. Perhaps it's harder to keep an open mind when nothing else feels very open.
Nevertheless, here we are where the money is, and I did a workshop and talk for two big clients in London just the week before last (it seems like so long ago), before returning to Sheffield, catching up with a few friends, going to (some of) a wonderful 24 hour lecturethon, then heading back here so that James and Brodie and I could have yet another train journey – this time to Oxford for a big family thing (his family, technically, but mi familia es tu familia, etc… aw.)
Roo, Lee and I have made at least one episode of Shift Run Stop since you were last reading this blog. The latest one features face-crippling sweets, awful cola, haunted chocolate, Scarlet Johansson, a quiz, soda streams and the Brittas Empire, and is here.
Tim and I have been rethinking our new book, The Inner Head. You can still buy the hardback, but we're revising the Kindle version and will upload it again soon.
My 'Making Things Fast' have been doing the rounds again lately, someone blogged about the Ignite video here, and someone else has been inspired by it to actually make something, fast. It's probably been the most wide-reaching of my 'philosophies', but I'm not entirely sure how I feel about it still being out there where people can pick it up and apply to their own practice for good or bad. Obviously if it helps people, fantastic – but it's hard for me to stand by it all. I was just some bum who had a reckon, back in 2010. I guess I just really hope people don't listen to advice any more than they would normally, just because there's an old video of it up on the internet. Was it not Peter Parker himself who said: with moderate exposure comes great responsibility.
I have a couple of talks for big, fun events coming up which I've been thinking about. I'm at the notes stage, but my head is in HC as we hurtle towards my deadlines. This is the kind of thing that I might have to stop doing completely until I'm into a solid routine with the mag (after Year 1?)
As always, knowing a lot of great people with a constant torrent of interesting ideas means there are always a number of plans like that, which I'm increasingly aware I need to revise my levels of commitment to, in favour of the over-arching commitment of the next three years of Hack Circus and, you know, The Dream. Priorities, people.
Speaking of which, there is a lovely new article about Hack Circus on Seed The City, based on a long chat I had on Monday with the site's enterprising founder Lucia.
I've started commissioning the next Hack Circus. I'm delighted to announce that my issue #2 designers are sticking around for issue #3. Once again, the theme is ACCESS ALL AREAS. Think locks, codes, infiltration, transgression, trespassing, fourth wall, etc. I'm after original pitches for fun articles and interviews on any of that, and ideas for talks and presentations for the next event, which will be in June – venue tbc. The deadline for mag content is mid-April, which is soon.
I've been sending out feelers for promoting HC this week. I think the people involved and the writing and talks they create deserve a higher profile, and I think between us we're doing something quite special and important. If you have any ideas about how we could promote the events or magazine, or if your organisation might want to buy a batch of them for the office/your event delegates/etc, let me know. I feel very excited about the next two issues of Hack Circus, for reasons that will be revealed soon. Ooh, mysterious.
Stop sending me links for a minute. My head is full of ideas.