Did you see the new Hack Circus event on Boing Boing this morning? What a generous benefactor that Cory Doctorow is!
I'm brewing another 'essay post' don't worry, but for now, let's see where we're at since last week:
* Writing two articles for WIRED UK, in collaboration with Dr Lewis Dartnell, author of The Knowledge, a fascinating new book about rebooting civilisation. (London and Brighton)
* Having a few meetings, and recording three chats for a new Hack Circus podcast. Editing them. (London) (I did two, they were great fun. I've got one more to do this week)
* Talking to people about several forms of sponsorship and advertising. (London and Brighton)
* Confirming speakers for the Hack Circus: Access All Areas event, and creating promotional material for it (it will take place on June 14th at Lighthouse.) (Waiting on final confirmation from one speaker)
(Brighton)
* Write my talk for Hack Circus: AAA (Brighton)
* Editing the surviving Hack Circus: This Is Reality footage (London)
* Commissioning a friend to write a theme tune for the new podcast. (London and Brighton)
* Moving the Hack Circus site over to Squarespace. (Brighton)
I caught up with a few people last week. The weather was insane in London (I'm sunburned!) and it was good to hang out with some excellent creative and business-minded women and bore them about my ambitions for all this. Business, business. Is it anything other than the survival game. I'm not expecting anyone to pay me for anything for months now, so… all kinds of cashflow problems on the horizon. Let's not think about that, though. Let's look at a lovely picture of Brodie in some buttercups on Sunday, instead.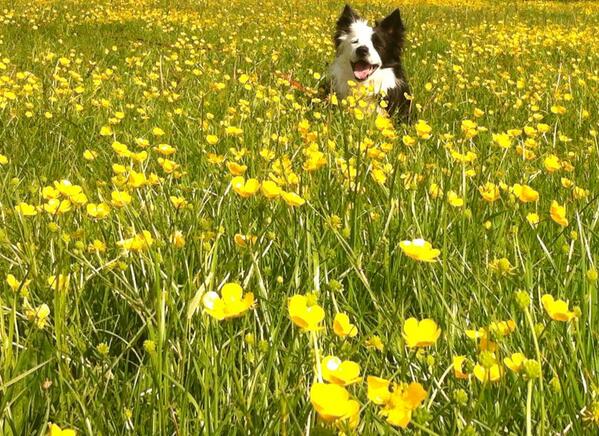 Aaah. Isn't that better?
This week:
*  I really need to write at least one talk. I doubt I'll have time/bandwidth to write something new for Hack Circus AAA but I'll probably write something for an evening thing I've been asked to do by Lighthouse in a couple of weeks (more of which anon) (Brighton)
* On that point, I have a long list of people from Lighthouse to send my HC:AAA event info to. (Brighton)
* I also need to promote the hell out of Hack Circus: Access All Areas. We had a design wobble with issue 3, but I think we're back on track, and will be able to send the mag to print as planned, next week. Phew. (Brighton)
* I'm planning to get the first three episodes of Hack Circus THE PODCAST up online somewhere on Friday. I've spent a load of time on this bit of the project over the week (and weekend) and it's shaping up really nicely, but there is more to do on it in time for Friday. I'm really, really pleased with it so far. (London)
* I've got a lot of emails from lovely, helpful people to reply to with some urgency. (Brighton)
* I think I'm going to have to buy a new laptop. Probably something reasonably heavy duty and powerful. As someone trying to be a professional, who needs (yes needs) to have at least two browsers, video and audio editing and MS Word open at any one time, a dainty little 'lady laptop' like a tiny, three-year-old MacBook Air doesn't really cut it. And to be honest, never has.
* Got to procure a 3D printer and talk to some Hackspace/3D printer people for Sinead's performance. (Brighton)
* Got to sort out the surviving HC: THIS IS REALITY videos this week. Naturally (naturally!) iMovie can't read the files I've been supplied with, but I can see them in my VLC and they look good, so that's something.
* I'm continuing to constantly pitch articles, email press releases to, and generally bang on about Hack Circus to everyone who will listen.
* On Thursday afternoon, a great designer is visiting me in Brighton to discuss a possible HC product, then we have our evening official launch event for the studio, where I'll be doing more talking about HC and attempting to do, you know Business.
Then it's off to Sheffield for the long weekend with the boys. We fully intend to swim in an outdoor pool. By that point I think we'll have earned it.
(You're getting the glamour of the media entrepreneur's life, right?)