It's been a busy couple of months. I've been to Wakefield, Leeds, Birmingham, Berlin, London and Dublin (some twice!) speaking, teaching and presenting, having speculative meetings and just having chats with great people, and it's been really brilliant. Most recently, the Dublin Maker event was a glorious treat, wonderful weather again and lovely to catch up with co-conspirators and Hack Circus contributors and in-their-own-right geniuses, Sinead, Eric, David, Sean, Jeffrey, and meet a load of new people, too.
Dublin is such an interesting place. It's very familiar but also a bit culturally alien (I think I'm sensitive to stuff like this because I leave the UK so rarely). The first and only other time I'd been was for their 2012 Maker event, when I had an excellent couple of days with Duncan experiencing the touristy bars and making LED jewellery and puppets with delightful Irish kids. It was also the weekend I first met Sinead and saw her at work, and realised immediately I had to get her involved with my then-burgeoning Hack Circus idea.
It's easy to get swept up in making stuff all the time, and forget how far we've come, but this was a stark and actually quite emotional illustration of it. The same place and the same people but three years on, and this time Sinead was showing a lot of stuff she'd begun developing, at least in part, with Hack Circus shows and themes in mind. And how exciting for me to return this time as a speaker, talking about some of the fun ideas that have gone into, and come out of HC over the last couple of years, surrounded by some of the people I've found most inspiring for the project. A wonderful experience.
To my astonishment, I've had a couple of applications picked up for September. Since we did the Life-themed issue of Hack Circus last year with its interviews with immortality researchers and Euthanasia roller coaster designers and cryonics labs, I've wanted to do some work around life extension themes – not from a purely scientific point of view, and not particularly focussing on the people (like in the very good Immortalists documentary) but something I hadn't seen before, that was a bit playful and a bit thoughtful. I wanted to bring together some fairly new-seeming transhumanist ideas with some very old religious ideas and scientific thinking and hear them all out equally. For ages, I've really wanted to make something a bit 'medical' (my original idea was to host a macabre cabaret while lying down in a hospital nightie, on a gurney). So this has been brewing for a while.
Obviously, I can't do this on my own, especially with about two months in total to complete the whole thing. But with the incredible dedication and skill of my technical pal Saul, I am creating an immersive 'life extension experience'. You can get a flavour of it on the site: howtoliveforever.co.uk and book a slot in the life extension booth, which will be installed at Lighthouse Arts in Brighton on September 22nd and 23rd as part of the Brighton Digital Festival (I won one of the new forms commissions). I'm also going to be doing a similar thing in Bradford for the British Science Festival – find me at Al's Dime Bar on the 'North Parade After Dark'.
Not content with creating a new installation in a month, I'm also making an accompanying documentary, interviewing experts from philosophy, psychology, sociology and religious studies to try to lay out some of the current thinking around this fascinating topic without simply reiterating the science facts (which is all trivially googleable). As always, I've got a few surprising experts thrown in and my focus (currently, but you know these things change with editing) is in transhumanism as a belief system. You can see a tiny 5-minute rough cut sampled from some of the early footage we captured here. I've always wanted to make a documentary, and in fact I've been doing this sort of thing for years with podcasts and journalism so it feels like a very natural step. It's very exciting. I'm very busy. As usual I have no idea what I'm doing.
Somehow, we also have to get the next issue of Hack Circus out of the door in September, which means completing design in the next two weeks. For obvious reasons, there will be no "Hack Circus show" as such this autumn, unless you actually want to kill me!
Also in September (when else?) I'm organising a community magic/circus show for a fantastic community project in Leeds, and have roped in some friends to help. A real (mini) circus!
At the end of September I'm doing a talk in at Galloway Forest 'Dark Sky' Park in Scotland. The event is called Sanctuary and is all about art and tech out of context, and stuff. I love Scotland and this thing in particular sounds like a real "experience". Can't wait.
On October 2nd I'm delighted to be speaking at Wuthering Bytes, a brilliant tech/art/ideas event I went to last year with the dog. This is a long post, you've earned it; here is a picture of my dog: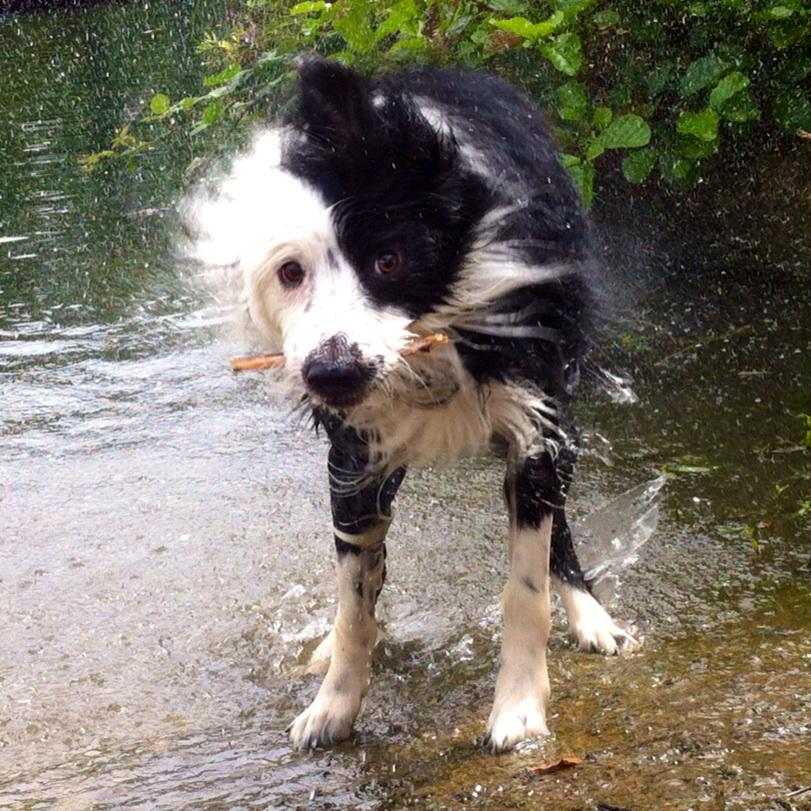 September is the first month in ages that's been so busy I've actively turned down several major offers of work.
In November, I'm speaking or presenting something at a thing that's yet to be announced, and hopefully helping out on an art project in Dublin (remotely, or perhaps another trip?). And there are various other things on the cards tbc.
It really is all or nothing, this lifestyle! When I tweeted something like 'I decided to pack it in, then the Universe told me not to', someone pointed out that the Universe just reflects what we put out, consciously or otherwise. We make our own destiny, whether we mean to or not. Not to go all electro-smog on your ass. But you know what I mean. You can't spell Universe without spelling Us, man.
(Quite obviously I'm doing this blogpost because I have two hours worth of footage to edit this morning.)